1928

2003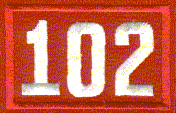 Boy Scout Troop 102
75th Anniversary Dinner
Date: Saturday April 26, 2003

Time:

5:30 PM

Place: Preakness Reformed Church

131 Church Lane

Wayne, NJ

Donation: $5.00 per person

B

oy Scout Troop 102 has decided to celebrate its 75th Anniversary with a reunion dinner for all present and former scouts, leaders, volunteers and family members. We are oldest continuously operating Boy Scout Troop in Wayne. Over the past 75 years, hundreds of boys and adult leaders have worked hard to create a very proud history of leadership and community service.

Y

ou might have been a member of the troop for a short time or perhaps years. You may have served on a committee, driven scouts to camp, volunteered for a special event, or even became a uniformed leader. What started out so long ago as a new troop of enthusiastic members has evolved into an extended family. Join us in April and see how your Troop 102 family has turned out! We have all been a part of something very special.

I

n order to help us plan, please complete the questionnaire and return it with your donation before March 15, 2003. If you have any questions, photos, news clippings, or memorabilia you wish to share please call one of the members of the Celebration Committee.